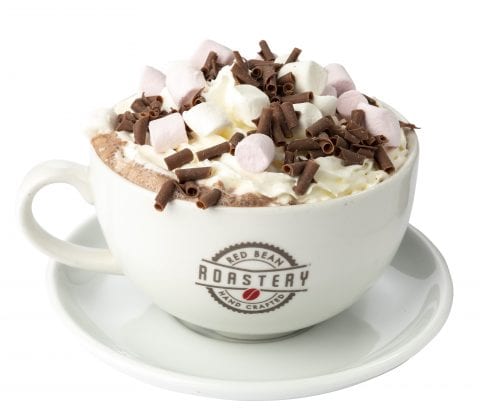 Five hot chocolate drink ideas you must try this winter!
The most wonderful time of the year is upon us and at Red Bean Roastery the festive season is truly underway. With Christmas just around the corner and the dark, winter nights, nothing sounds better than ''Chestnuts roasting on an open fire'' oh no wait… hot chocolate brewing on an open fire.
If coffee is not your thing why not try our new heavenly Hot Chocolates with five mouth-watering flavours to choose from: Classic, Mint, Praline, Cookies and Cream and Honeycomb.
Check out the recipe below to recreate our most popular ''Classic Hot Chocolate'' during the holidays. Looking at those scrumptious ingredients makes us tempted already!
What you need:
Indulgent Hot Chocolate Powder
Mini Marshmallows
Milk Chocolate flakes
White Chocolate flakes
Whipped Cream
Milk
Method:
1. Preheat the 12 ounce cup
2. Add 1 level scoop of chocolate powder to the glass
3. Add approx. 30ml of hot water to the chocolate powder to make a paste
4. Steam milk to a silky consistency approx. 70 degrees
5. High pour the milk into the glass and fill almost ¾ full and mix again
6. Top up the glass and finish with whipped cream, marshmallows and chocolate flakes.
As well as being the ultimate chilly day treat, Hot Chocolate has a myriad of benefits.
The key ingredient cocoa is rich in antioxidants known as flavonoids. A fun fact, it is alleged that cocoa has twice the antioxidants of a glass of red wine and three times as many as green tea.
Hot Chocolate just became even more appealing! (We never thought it was possible).
We at Red Bean Roastery aspire to provide you with warmth, happiness and great flavour- all in one cup!
Pop-in to any of our Red Bean Roastery coffee shops in Ireland and try your favourite flavour.
Check us out on social media:
Instagram @RedBeanRoastery
Facebook @RedBeanRoastery
Twitter @RedBeanRoastery
Need more inspiration? Check our hot chocolate and coffee menus