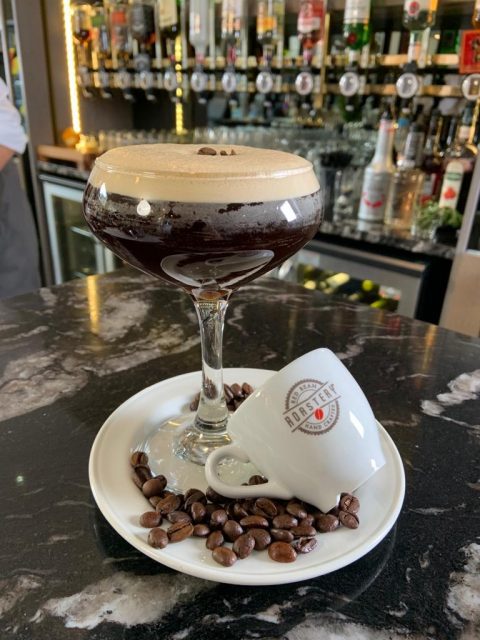 How to make Espresso Martini
Founded by Dick Bradsell of London, a British mixologist noted for his famous cocktails. The espresso martini cocktail dates back to the 1980's and has risen in popularity across the globe since.
Coffee Culture in Ireland and UK has grown exponentially and is now used in drinks, desserts and much more. The Espresso Martini is a strong concoction of Espresso, Coffee Liqueur, Vodka and Red Bean Roastery coffee beans to garnish.
We decided our signature coffee bean with its beautiful aroma and full-bodied taste would be perfect to put our own stamp on the espresso martini. The Red Bean Roastery Espresso Martini can now be ordered in our bars and lounges in Clayton Hotels and Maldron Hotels across Ireland and the UK.
Why not give our very own Red Bean Roastery recipe a try?
Espresso Martini Ingredients:
50 ml Kettle One Vodka
25 ml Tia Maria
10 ml Sugar Syrup
40 ml double shot of RBR espresso
Equipment for Espresso Martini:
Martini glass
Cocktail shaker
Cocktail strainer
Espresso Martini Recipe:
Fill a martini glass with Ice
Add all Ingredients to the shaker with lots of ice and shake well to get appropriate foam head
Empty the martini glass of ice and strain contents of shaker
Garnish with 3 coffee beans
With just a few magic ingredients, you can create the most exquisite drinks. We bet your loved ones will talk about it for days! Once you have learned how to make this dreamy beverage the enjoyment it can bring is infinite. This Christmas, enjoy a luxurious Espresso Martini under the mistletoe and create long- lasting memories at home with family.
For the coffee lover in your life…Why not buy Red Bean Roastery beans?
Create a personalised Espresso Martini hamper for that someone special?
Pop into a @redbeanroastery location near you and grab a bag of our very own handcrafted, ethically sourced coffee beans.
Head to your local supermarket or off- license to pick up Kettle One Vodka, Tia Maria and Sugar Syrup
Find a box and some funky, festive wrapping paper to decorate
Drop off to that someone special and let them enjoy!
Now that you have all the steps you need, get going and enjoy these Espresso Martini ideas this Winter season. Hopefully before long we will be able to reunite and enjoy these special moments together!